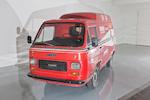 Formerly the property of Garage Francorchamps
1978 FIAT 900T Ferrari Service Van
Chassis no. 200B1453782
Many of the older Belgian Ferrari enthusiasts remember this FIAT 900 as the service van used for parts delivery and race assistance in the late 1970s and 1980s. This van was purchased new by Jacques Swaters' Garage Francorchamps SA in September 1978, at that time still in the Rue Goffart, Brussels and surely was used for the company's move to the Rue Colonel Bourg in 1984. The FIAT provided its loyal on-the-road service until some time in 1988 and for the next decade was used as a storage facility in the workshop of the Ferrari Antwerpen dealership that opened in 1989.
The sign-written livery features the famous 'Cavallino Rampante' and the logos of Ferrari models of the late 1970s: 308GTB and 308GTS, 512BB, 400 automatic and Mondial. The van is in very original condition with some rust to the lower body, while the engine is running but requires further servicing before it will be roadworthy again. It comes with the original service booklet and Belgian registration document in the name of Garage Francorchamps, a Belgian Certificat de Conformité and its last Certificat de Contrôle Technique dated 12/10/1987. A fantastic assistance vehicle for any Ferrari race enthusiast.

Nombreux sont les Belges parmi les plus anciens passionnés de Ferrari qui se rappellent cette fourgonnette Fiat 900 de service utilisée pour la livraison des pièces et comme voiture d'assistance en course dans les années 1970 et 1980. Cette fourgonnette qui fut achetée neuve en septembre 1978 par le Garage Francorchamps SA de Jacques Swaters, alors situé rue Goffart à Bruxelles, servit probablement à déménager rue Colonel Bourg en 1984. Cette Fiat remplit fidèlement sa mission jusqu'en 1988 avant de servir d'armoire de rangement dans l'atelier de la concession Ferrari d'Anvers ouverte en 1989.
Sa livrée publicitaire arbore le célèbre « Cavallino Rampante » et les logos des modèles Ferrari de la fin des années 1970 : 308 GTB et 308 GTS, 512 BB, 400 Automatic et Mondial. La camionnette est dans son état d'origine avec traces de corrosion dans les bas de caisse et si le moteur fonctionne, il demande néanmoins une révision avant de reprendre la route. La voiture possède son manuel d'entretien d'origine et son document d'immatriculation en Belgique au nom du Garage Francorchamps, un Certificat de Conformité belge et son dernier Certificat de Contrôle technique daté du 12/10/87. Un fantastique véhicule d'assistance pour tout passionné pilote de Ferrari.