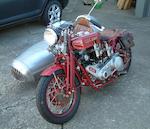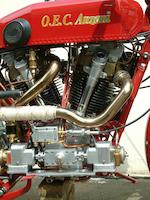 'OEC-Anzani' 2,003cc Re-creation
These days the Osborn Engineering Company (OEC) is best remembered for its curious 'duplex' form of steering gear and Claude Temple's world speed record-breaking exploits on the mighty OEC-Temple-Anzani during the 1920s.

The amazing home-made 're-creation' offered here is a masterpiece of modern engineering but without any historical background. Its twin-carburettor, Anzani-style engine incorporates cylinders and cylinder heads machined from solid billet and has bore/stroke dimensions of 105.5x114.5mm for a cubic capacity of approximately 2,003cc. The overhead camshafts are driven by shaft and bevel gears and the claimed maximum power output is 80bhp at 5,000rpm, which is transmitted via a modified Harley-Davidson clutch and a modified Andrews four-speed transmission contained in Harley cases.

This mighty engine is housed in a home-built frame combining lugged/brazed, welded and bolted construction methods, with a wheelbase of 1,280mm. The wheels hubs likewise are to the creator's own design. The machine weighs 325kg (715lb) solo and around 440kg (968lb) as a motorcycle combination, complete with aluminium-bodied single-seat sidecar. In solo trim a top speed of approximately 165km/h (102mph) is claimed in 4th gear at 4,000rpm.
Footnotes