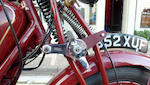 1931 Moto Guzzi 498cc Sport 15
Frame no. 13484
Engine no. L13689
Dating from the model's first year of production, this Sport 15 retains matching frame/engine numbers as confirmed by Moto Guzzi while the engine number, 'L13689', is also stamped on the inner surface of the gear change gate. The machine was in original but un-restored condition when purchased by the current owner and has been sympathetically restored throughout. Completed in 2010, work carried out included extensive mechanical restoration: new bearings throughout, new piston with original cylinder barrel suitably honed, as well as new fork spindles, bearings and damper friction discs. Many parts were sourced from the legendary Moto Guzzi specialist in Bergamo, Angelo Tadini. An additional rear light from a later 1930s Guzzi has been fitted for enhanced visibility but is easily removable to restore the original appearance.

The paint colour used was carefully matched to that found on the underside of the oil tank, as inspection suggested that this un-faded area had not been repainted and was original. It should be noted that the handsome steering damper knob is the original component but is not functional. The damper internals were missing and at time of restoration replacements had not been found. However, the owner has ridden the machine for several hundred miles and reports that it steers and handles extremely well. Registered in the UK since 2008, the machine is presented in generally good condition and offered with roadworthiness certificate (MoT) expiring in December 2012 and UK V5C document for the registration '852 XUF'.
Footnotes