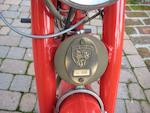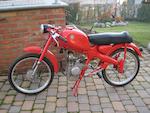 1953 Motom 48cc Junior
Frame no. 67766
Engine no. 67704
Founded in Italy in 1947 and active until the early 1970s, Motom was unusual among European manufacturers of mopeds and ultra-lightweight motorcycles in preferring the four-stroke engine rather tan the ubiquitous two-stroke. Pressed-steel spine frames were another Motom trademark although, as time progressed, models with tubular frames were introduced and proprietary Peugeot and Zündapp two-stroke engines adopted. Production of Motom motorcycles ceased in 1971. This restored Motom four-stroke sports moped is presented in generally good condition. Offered with ASI Certificato di Omologazione (number 'C018') it represents a rare opportunity for the serious collector to acquire a European sports moped of a type infrequently seen outside Italy.
Footnotes
Saleroom notices
We could not locate the engine or frame numbers. Nous ne pouvons pas trouver le numéro de cadre sur le moteur.