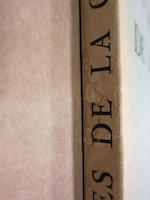 A group of six books on Chinese furniture
Including:
Chinese Domestic Furniture by Gustav Ecke, Editions Henri Vetch, Beijing, 1944, 161 plates.
Les Meubles de la Chine by Maurice Dupont, Librarie des Arts Decoratifs, 1950, 54 plates.
A Grammar of Chinese Lattice, Volume I and II by Daniel Sheets Dye, Harvard University Press, 1937, 469 pages total in two volumes.
Chinese Furniture: Hardwood examples of the Ming and early Ch'ing Dynasties by Robert Hatfield Ellsworth, Random House, New York, 1971, 286 pages.
Chinese Household Furniture by George N. Kates, Harper and Brothers Publishers, 1948.