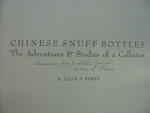 A group of thirteen books on the various arts of China and Asia
Including:
Chinese Snuff Bottles by Lilla S. Perry (autographed), Charles E. Tuttle Company, Tokyo, 1960.
Oriental Ceramic Art by S. W. Bushell, Crown Publishers, New York, 1980.
Princes of Jade by Edmond Capon and William Macquitty, Thomas Nelson and Sons, London, 1973.
Guiseppe Castiglione: A Jesuit Painter at the Court of the Chinese Emperors by Cecile and Michel Beurdeley, Lund Humphries, London, 1972.
Oriental Cloisonne and Other Enamels by Arthur and Grace Chu, Crown Publishers, New York, 1975.
Oriental Rugs, Volume 1: Caucasian by Ian Bennet, Oriental Textile Press Ltd., 1981.
Oriental Rugs, Volume 2: Persian by Erich Aschenbrenner, Oriental Textile Press, Munich, 1981.
A View of Chinese Rugs from the Seventeenth to the Twentieth Century by H. A. Lorentz, Routledge and Kegan Paul, London, 1972.
Sotheby Parke Bernet, Sale 277 (catalogue) June 2 - June 5, 1980, Los Angeles.
Sotheby's Sale 298 Volume II (catalogue) March 5, 1981, Los Angeles.
The Grammar of Chinese Ornament by Owen Jones, Portland House, New York, 1987.
Chinese Porcelain and Hard Stones, Volumes I and II by Edgar Gorer and J. F. Blacker, Bernard Quaritch, London, 1911.