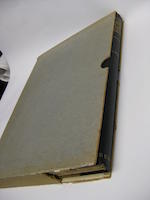 The George Eumorfopoulos Collection Catalogue of the Chinese, Corean and Persian Pottery and Porcelain
By R.L. Hobson. Six volumes, each in its original case, from a limited edition of 725, including:
volume 1 From the Chou to the End of the T'ang Dynasty (253/725)
volume 2 From T'ang to Ming: Ju, Kuan, Ko, Lung-Ch'uan & Chien Wares (247/725)
volume 3 From T'ang to Ming: Chun, Ting and Tz'u Chou Wares (246/725)
volume 4 The Ming Dynasty (246/725)
volume 5 The Ch'ing Dynasty Porcelain (246/725)
volume 6 Chinese pottery, Corean and Persian Wares and Recent Additions (246/725)
Ernest Benn, Ltd. Bouverie House, London, 1926. [6]