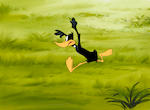 Two Warner Bros. celluloids, one of Daffy Duck and the other of Elmer Fudd
Gouache on full celluloid, the Daffy cel from 1959, applied to a hand-prepared background, annotated 13 G 7; the cel of Elmer Fudd is from the 1960s depicting him wearing his classic hunting outfit, applied to a copy of a background.
10 x 12 1/2 in. and 10 1/2 x 13 1/2 in.