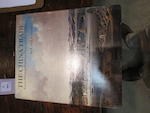 A group of five books on Chinese silver and export art
Including:
The China Trade: Export Paintings, Furniture, Silver and Other Objects, Carl L. Crossman, Princeton, The Pine Press, 1972.
The Decorative Arts of the China Trade, England, Antique Collectors' Club, 1991.
Chinese Export Silver 1785-1885, H.A. Crosby Forbes, John Devereux Kernan and Ruth S. Wilkins, Milton, Mass., Museum of the American China Trade, 1975 (with inscription by Mr. Kernan).
Silver Carving of the Old China Trade, Neville John Irons, London, House of Fans, 1983.
The Chait Collection of Chinese Export Silver, John Devereux Kernan, New York, Ralph M. Chait Galleries, 1985, with inscription.