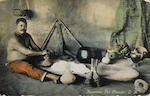 Important and Rare Large Pounding Board, Hawaiian Islands
papa ku'i poi
length 57 1/4 (145.4cm)
Wood
Together with three vintage postcards depicting men pounding poi.

Provenance:
Emma Nakuina (1847-1929), first curator of the Hawaiian National Museum, forerunner to the Bishop Museum
Thence by descent

This exceedingly large one-man pounding board, papa ku'i poi displays significant use and age. The top surface wear and coloration to the patina shows both the area where the man would sit and the notable depression at the opposite end, obtained through years of pounding taro into a mash. Papa ku'i poi were essential kitchen equipment and, like the present example, very heavy shallow trays, rectangular in shape with corners rounded off. Typically made of breadfruit, the present work is kou, adding to its rarity.

Cf. Buck (1957: pp 26-7) for a discussion on pounding boards in the Bishop Museum.