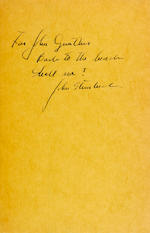 STEINBECK, JOHN. 1902-1968.
The Winter of Our Discontent. New York: Viking Press, 1961.
Original cloth; dust jacket. Leaned; jacket a little sunned and top edge rubbed.

PRESENTATION COPY TO JOHN GUNTHER OF THE LIMITED FIRST EDITION, SIGNED AND INSCRIBED on the front free endpaper: "For John Gunther / Back to the beach shall we? / John Steinbeck." One of 500 copies specially bound for friends. John Gunther [1901-1970] was a friend of Steinbeck, an important journalist, and a very positive reviewer of The Moon is Down. Steinbeck mentions a party at Gunther's New York apartment in America and Americans. Goldstone & Payne A38.a.