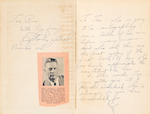 GARDNER, ERLE STANLEY. 1889-1970.
The Case of the Caretaker's Cat. New York: William Morrow and Company, 1935.
Original black cloth lettered in green, top edge green, dust jacket. Newspaper portrait of Gardner tipped to front pastedown, top edge faded, some chipping and creasing to jacket.

FIRST EDITION, SIGNED AND INSCRIBED twice by Gardner: "Tee Rose / with love from / Erle Stanley Gardner / November 1935" and "To Tee - who is going to be autographing some books of her own before many moons - and who will then owe the first copy of the first book to one who so keenly appreciates the rare talent she has. / In other words, Tee, you gotta give it to the old sidekick who is stronger for you than horseradish / Erle."