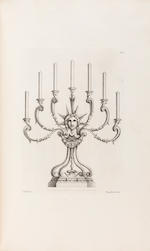 JONES, INIGO. 1573-1652.
Some designs of Mr. Inigo Jones and Mr. Wm. Kent. [London]: John Vardy, 1744.
Folio (420 x 260 mm). Engraved throughout: title, 2 contents leaves, and 53 plates. Period mottled calf, rebacked at an early stage. 3 plates affected by patch of toning, rubbed.
Provenance: armorial bookplate with British royal arms, manuscript shelfmark "E 8=6," and arms repeated in gilt at foot of spine.

FIRST EDITION of Vardy's compilation. Vardy, who had studied under Kent, devotes the first seventeen plates to the work of Jones and the remainder to Kent. As well as architectural elevations, the plates include chimneypieces, decorative furnishings, plate covers, urns, candlesticks and chairs. "The publication of many drawings by Jones ... by William Kent (1727), Isaac Ware (1731), and John Vardy (1744) provided a wealth of models for architects to the mid-century and beyond" (ODNB).