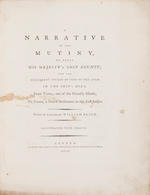 BLIGH, WILLIAM. 1754-1817.
A Narrative of the Mutiny on board His Majesty's Ship Bounty; and the Subsequent Voyage of part of the Crew, in the Ship's Boat, from Tofoa, one of the Friendly Islands, to Timor, a Dutch Settlement in the East Indies. London: printed for George Nicol, 1790.
4to (312 x 247 mm). iv, 88 pp. Folding engraved frontispiece plan, folding route map on heavy paper, 2 charts on blue paper (one folding). Modern burgundy morocco; custom clamshell case.
Provenance: Lieutenant John Cooke [?-1834] (presentation inscription dated 1791, annotations); by descent to H.C. Harston (ownership inscription); Calvin Bullock (bookplate, correspondence with Felix Count von Luckner laid in). Small brown stain to frontis and title, brown offsetting on pp 50-51 & 64-65, modern note tipped to lower inside cover.

PRESENTATION COPY OF THE FIRST EDITION, inscribed secretarially on the front free endpaper: "The gift of Captain William Bligh / to / Lieutenant John Cooke / July 19th 1791" (with some 19th century annotations by a descendant). Bligh presented copies of his account to the Lords of the Admiralty and other influential people to forestall any censure for his conduct before and after the mutiny. His relationship with John Cooke is not known, perhaps in this case the presentation was out of friendship. Records at the National Maritime Museum show that Cooke became a Lieutenant in 1781 (the same year as Bligh did), a Commander at an unspecified date, and a Captain in 1795. The ship's roster on pp 6-7 is annotated in a contemporary hand, presumably by Cooke, to record the individual fates of the crew. Ferguson 71.