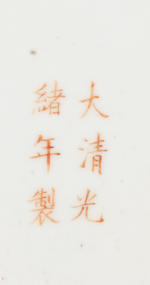 A pair of famille rose saucer dishes
Guangxu six-character marks and of the period
Each interior centrally gilt with a shou (longevity) character encircling a fu (good fortune) character outlined in iron-red, within four concentric bands of stylised shou characters, the underside enamelled with three scrolling floral sprays. 38.8cm (15in) diam. (2).
Footnotes