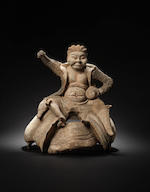 A fine and large unglazed grey pottery camel and rider
Tang Dynasty
The camel modelled striding forwards on straight legs, the body with two humps pointing upwards in front of the delicately-waving tail, the head supported on a long curving neck with a shaggy mane and looking slightly to the left with the mouth wide open and the tongue reaching up to the top jaw, the rider separately modelled with right hand raised to hold the reins, a broad frowning face and a thick fur coat open to reveal the rounded belly, seated atop a saddle and heavy packs modelled to fit onto the camel's twin humps. The camel 78cm (30¾in) high; the rider 32.8cm (12 7/8in) high (2).
Footnotes
Saleroom notices
Please note that the results of a thermoluminescence test, Oxford Authentication Ltd., No. C102c48 of 28 January 2002, is consistent with the dating of this lot.