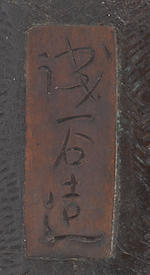 A large bronze tiger
By Genrysai Seiya, Meiji Period
Shown striding forward with its long tail stretching out behind, its mouth wide open as it growls, the stripes on its body delineated in subtly-toned patination, signed on its belly in a rectangular reserve Seiya zo, with separate large oval wood stand. The tiger 24.5cm x 53cm (9 5/8in x 20 7/8in). (2).
Footnotes