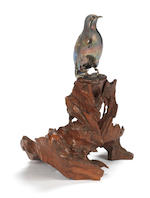 A shibuichi okimono of a kassagi (magpie)
By Kanzan, Meiji Period
Naturalistically modelled with its plumage and tail painted in contrasting tones of blue and green, perched on a detachable rustic wood stand, the front applied with a snail crawling over the surface inlaid in mother-of-pearl, signed Kanzan. The bird 6.5cm x 13.7cm (2½in x 5 3/8in), the wood stand 11.5cm (4½in) high. (2).
Footnotes