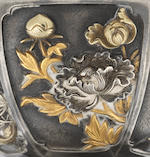 An inlaid silver small vessel and cover
By Tadayoshi and Yukihiro, Meiji Period
Of tapering, hexagonal form, the body inset with six lobed panels decorated in gold and silver takazogan, each depicting a different scene consisting of a carp leaping up a river, a Chinese pavilion on a cliff, a dragon rising from the tumultuous waters, 'the clam's dream', a cockerel and hen perched on a drum and stalks of blooming peonies, one panel with chiselled signature Tadayoshi kore wo horu, the interior gold lined; the cover pierced and carved with takaramono among swirling clouds, the rim signed Yukihiro zo and stamped jungin (real silver).
5.5cm (2 1/8in) high. (2).
Footnotes