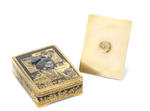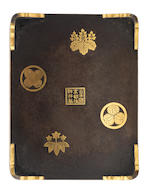 An inlaid iron rectangular tobacco box and cover
By the Komai Company of Kyoto, Meiji Period
The cover with a panel decorated with the bust portrait of a bijin, standing before two overlapping shikishi-ban-shaped cartouches enclosing kacho-ga scenes and Mount Fuji, bordered by fruiting vines, the sides of the box decorated with assorted seasonal plants and flowers, all worked in gold, silver, shibuichi, copper and shakudo takazogan and gold nunomezogan, the underside of the box scattered with four different mon: goshichikiri, sasarindo, Tokugawa-aoi and maru-ni-chigai-takano-hane worked in kinsujizogan, with ensuite tobacco tamper; signed Nihon koku Kyoto jyu Komai sei.
2.7cm x 9.5cm x 7.2cm (1 1/16in x 3¾in x 2 13/16in). (3).
Footnotes