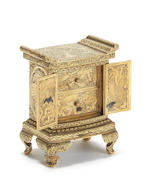 An inlaid iron miniature kodansu (cabinet)
Attributed to the Komai Company of Kyoto, Meiji Period
Of rectangular form and raised on four tall bracket feet, the pair of hinged doors opening to reveal two removable drawers, applied throughout in typical gold and slight-silver nunomezogan, the doors decorated with a torii, shrines and boats sailing in the distance, the scrolled top with a shaped panel of views of shrines and a pagoda in a rural setting and the peak of Mount Fuji visible in the distant landscape, the sides with panels of coiled dragons and a pair of exotic birds among irises, the interior decorated with ho-o in flight; the base stamped with the double-mountain mark, with wood storage box. 9.2cm x 7.2cm x 5cm (93 5/8in x 2¾in x 2in). (2).
Footnotes