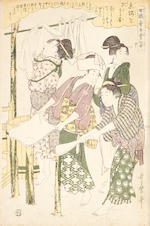 Kitagawa Utamaro (1753-1806)
Circa 1800
Twelve oban tate-e beni-girai/murasaki-e prints, a complete set of the series Jyoshoku Kaiko Tewaza-gusa (Women Engaged in Sericulture Industry), each sheet individually numbered (from one to twelve) right to left, forming a twelve-sheet continuous composition of the twelve stages of silk production, comprising:

i) Laying eggs on a sheet of paper
ii) Picking mulberry leaves to feed larvae
iii) Transferring grown silkworms to other bamboo mats and feeding them
iv) Re-activating worms after sleep
v) Feeding larvae with mulberry leaves
vi) Placing cocoons on trays
vii) Arranging male and female moths to lay eggs
viii) Silkworm moth flying after hatching cocoon
ix) Hand-spinning thread from cocoons in a pan of boiling water
x) Stretching silk floss on wooden posts
xi) Spinning silk
xii) Weaving silk on loom

published by Tsuruya Kiemon, all signed Utamaro hitsu, with paper folder. Each sheet approx. 38.5cm x 25.5cm (15 1/8in x 10in). (13).
Footnotes