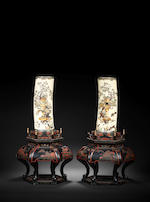 A pair of silver-mounted and ivory Shibayama-inlaid tusk vases
By Masamitsu, Meiji Period
Both vases decorated in typical Shibayama style with a matching design of pigeons perched and in flight around a tall lantern, with flowering cherry blossoms growing around it, signed in a lacquer reserve Masamitsu; supported on detachable black lacquer elaborate six-cabriole-legged stands engraved with Chinese pavillions set amid rockwork with other floral and key-fret designs. The tusk vases 34.6cm (13 5/8in) high, the stands 34cm (13 3/8in) high. (4).
Footnotes