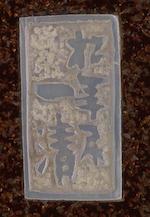 A silver, ivory and Shibayama-inlaid kodansu (table cabinet)
By Shonen and Kazukiyo, Meiji Period
Of conventional form, supported on four bracket feet, inset with five lobed ivory panels, each typically inlaid in Shibayama style and decorated with a different kacho-ga scene including a family of chickens in a garden, an eagle perched among flowering plum and peony, a kingfisher catching fish, all reserved on a silver ground engraved with a mass of seasonal plants and foliage between borders of simulated bamboo, the front with a single door, hinged at the side opening to reveal three drawers decorated in gold and red togidashi with yamabuki, the inside of the door similarly lacquered with a bunch of irises lying against a suspended tasselled kusudama, the underside of rich nashiji and signed Shonen [...] Kazukiyo; with detachable rectangular wood stand.
16.5cm x 18.5cm x 18.2cm (6½in x 7¼in x 7 1/8in), the wood stand 5cm x 23.5cm x 18.5cm (2in x 9¼in x 7¼in). (2).
Footnotes