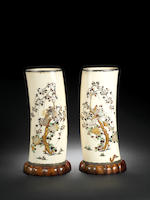 A pair of silver-mounted Shibayama-inlaid ivory tusk vases
By Masayuki, Meiji Period
The vases bearing a matching design and typically executed in stained ivory, mother-of-pearl and tortoise-shell, decorated with a pair of fan-tailed doves perched on a flowering sakura tree, the reverse of both vases with butterflies hovering among peonies growing against a bamboo fence, signed in a horn tablet Masayuki; both supported on a detachable five-footed revolving, elaborately-carved wood stand.
Both vases 27cm (10 5/8in) high, the wood stands 24.5cm (9 5/8in) high. (4).
Footnotes