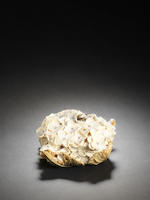 An ivory box and cover
By Tokosai, Meiji Period
Naturalistically modelled in the form of tightly-clustered hydrangea blooms lying on top of a bed of insect-eaten overlapping leaves, with a single wasp pollinating the petals and a ladybird and snail crawling over the sides, the stamens inlaid in mother-of-pearl, signed with seal Tokosai. 7.7cm x 14.5cm (3in x 5¾in). (2).
Footnotes