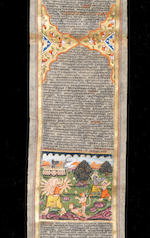 An extensive manuscript of the Ramayana in scroll form
North India, circa 1860
Sanskrit manuscript on paper in scroll form, one illuminated headpiece in colours and gold, below this a single letter in nagari script, followed by 16 illustrations within cartouches, depicting the avatars of Vishnu and other subjects, text in small black nagari script within cartouches against a gold ground with floral motifs, other small circular scenes depicting deities within text areas, 6 further illustrations throughout the manuscript depicting episodes from the Ramayana, occasional fraying and short tears to edges otherwise in very good condition
approx. 12 m. 90 cm. x 96 mm.