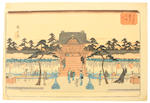 [WRIGHT, FRANK LLOYD.]
HIROSHIGE, UTAGAWA. 1797-1858. A group of eight woodcuts, various sizes, signatures and publisher marks, all in generally good condition with some chipping to extremities, a few repairs and old mount marks, some mild soiling, paper of a few prints soft, Hara dampstained.

An obsessive collector of Japanese prints, Frank Lloyd Wright staged several major exhibitions of works from his collection throughout his life, and in 1967 published The Japanese Print: an interpretation (New York: Horizon). The present examples from his collection, three of which are INSCRIBED, were given as gifts to Blaine and Hulda Drake. Together the prints include:
1. Shohei Bridge and Seido Hall by the Kanda River from the series One Hundred Famous Views of Edo. Inscribed "To Blaine Xmas 38. F.LL.W."
2. Hara from the series The Fifty-Three Stations of the Tokaido Road (Hoeido edition). Inscribed "to Hulda - Christmas at Taliesin 1935," tipped to board.
3. Celebration of the Cock Festival in the Ricefields near Asakusa from the series One Hundred Famous Views of Edo.
And 5 others, including one inscribed "to Blaine at Taliesin Christmas 1935."