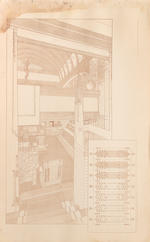 WRIGHT, FRANK LLOYD. 1867-1959.
1. Ausgeführte Bauten und Entwürfe. Berlin: E. Wasmuth, 1910.
Volume 1 only. 33 plates (638 x 401 mm), 15 with printed tissue overlays bearing architectural designs, loose as issued in cloth-backed portfolio, in zippered carrying case. Plates water-damaged at edges with several chipped in addition, ties lacking, portfolio water-stained and worn.
2. Sales pamphlet for the above, 12mo (152 x 112 mm), 8 pp, with typed amendment to final page regarding "the limited supply," presumably following a fire at Taliesin.
3. Ausgeführte Bauten und Entwürfe. Berlin: 1911. 4to. Original wrappers. Covers detached.

THE SCARCE FIRST EDITION, volume 1 only. An incomplete copy of the landmark "Wasmuth Portfolio," influential for introducing of the work of Wright and the Prairie School to European architects. Most copies of the portfolio set aside for American distribution were lost in a 1914 fire at Taliesin, and the water-staining and damage to the present copy suggest it may have been one of the few which were salvaged from that blaze.