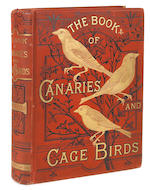 ORNITHOLOGY.
1. JONES, THOMAS RYMER, editor. Cassell's Book of Birds. From the Text of Dr. Brehm. London: Cassell, Petter, and Galpin, [1869-73?]. 4 vols in 2. 4to. 40 color plates, over 400 engravings. Quarter leather. Light dust soiling to bindings.
2. FULTON, ROBERT. The Illustrated Book of Pigeons. With Standards for Judging. London [etc]: Cassell & Company, [1885]. 50 chromolithograph plates. Quarter morocco and marbled boards. Text block weakened at center, rear hinge strenghtened, rubbing to joints and edges.
3. BLAKSTON, W.A., ET AL. The Illustrated Book of Canaries and Cage Birds, British and Foreign. London [etc]: Cassell & Company, [ca. 1880]. 56 chromolithograph plates. Original illustrated red cloth stamped in gilt and black, all edges gilt. Textblock weakened, light soiling.
Together, 4 volumes.