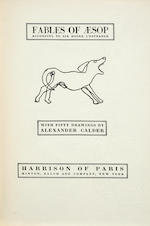 CALDER, ALEXANDER. 1898-1976.
Fables of Aesop, according to Robert L'Estrange. Paris: Harrison of Paris, [1931].
4to. With 50 illustrations by Calder printed in black. Original boards, blue printed jacket; original red board chemise and slipcase both with paper printed labels. Pale foxing to jacket, light wear to chemise and slipcase edges.

LIMITED EDITION, no 506 of 595 copies on Auvergne handmade paper. Complete with original box and Calder-designed "paper knife" for opening the gatherings. Finely crafted. Artist & the Book 47.