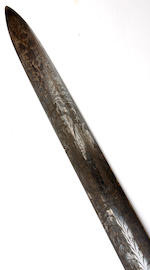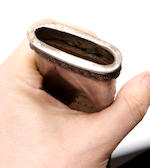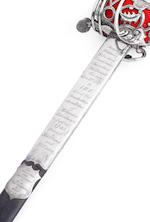 An exceptional silver-mounted Highland basket-hilted broadsword presented to Viscount Strathallan by Walter, 5th Duke of Buccleuch in 1859

With tapering double-edged blade fullered on each side at the forte, etched 'Prosperity to Scotland and No Union My God My Country and King James the VIII', the forte on both sides etched and blued against a gilt ground with foliage involving a classical figure and a trophy of arms, heavy hilt (apparently unmarked) cast, pierced and chased with foliage including thistles and C-scrolls framing, at the front, a gold cartouche set against a punched ground and finely engraved with the Strathallan coat-of-arms and motto, flanked on either side by a cast and chased eagle within a cartouche en suite, side-bars of circular section framing a pierced diamond-shaped panel between circles on either side, and a line of flower-heads, foliate fore-guards, scallop-shaped wrist-guard, thistle-shaped pommel, fishskin-covered grip bound with twisted silver wire, and complete with its red woollen liner, in original black leather scabbard with deep silver locket and chape each embossed and chased with thistles on the outside, the locket engraved 'James Francis Edward Cassimir Chevalier De Saint George. Rex Ed., Sct., Id., To I.H.F., Lord Vis.t Strathallan. at our Palace of Holyrood, Edinburgh, Septr. 28th., 1745. Succefs to Scotland. and No Union.', a shield-shaped silver escutcheon beneath engraved 'Lost on Culloden Field 1746 found & restored to Wm Hy 9th Visct. Strathallan by Walter 5th Duke of Buccleuch', the blade 86cm.
Footnotes
Saleroom notices
Please note the basket-hilt is silver with a gold cartouche engraved with Baillie, James Evan Bruce of Douchfour, Inverness, not Strathallan as previously stated. The marriage arms are between Montague and Baillie. The basket hilt has been tested by The Assay Office, Edinburgh in two places, both of which tested as 925 standard silver. The leather scabbard is silver-mounted.