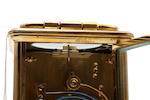 A 20th century brass carriage clock
The movement stamped E.G.L
The 2 1/2 inch white enamel dial with Roman numerals, the twin drive train movement striking a gong, contained within a brass case with swing handle and bevelled glass plates, raised on a plinth contained within an oxblood red leather travelling case with purple velvet lining, together with a 20th century brass ships style aneriod barometer inscribed 'Kelvin. White & Hutton. 11, Billiter St. London E.C.', 9cm wide, 8cm deep, 14cm high, and 17cm diameter, 10cm deep, (2).