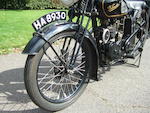 1933 Velocette 249cc MOV
Registration no. HA 8930
Frame no. MB8954
Engine no. M56
In 1933 Veloce Limited augmented its K-Series overhead-camshaft range with an overhead-valve '250' - the MOV - that would spawn an entirely new range of ohv singles. The newcomer's engine was a 'high camshaft' design with enclosed valves, and the compact and sprightly machine featured a four-speed gearbox equipped with the company's new foot-change mechanism that had been developed on the works racers. The following year an overhead-valve 350 built along MOV lines appeared. This was the long-stroke MAC, subsequently bored out to create the 500cc MSS. Post-war, Velo's overhead-valve trio continued much as before, with rigid frames and - initially - Webb girder forks. The MOV was dropped at the end of 1948 but the MAC soldiered on into the 1960s, gaining an alloy engine top end and Velocette's own telescopic fork for 1951 plus a swinging-arm frame in 1953. The current vendor purchased this early MOV from the estate of the late Barrie Holt, chairman of the Kings Norton MCC. The Velo had been restored in the 1980s and was kept on the road for approximately the next five years before being dry stored in an integral garage under dustsheets. Occasionally brought out for cleaning and to have its engine turned over, the machine bump-started successfully when last tried, though a relatively weak spark suggests that the magneto needs attention. Noteworthy features include new clutch springs, a rebuilt dynamo and a modern Yuasa battery concealed within a traditional black casing. The machine is offered with expired MoTs, Swansea V5 document and a handbook.