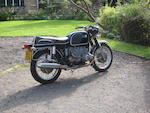 1971 BMW 599cc R60/5
Registration no. BKX 150K
Frame no. 2938185
Engine no. 2938185
The long-awaited replacements for BMW's long-running Earles-forked flat twins finally arrived in 1969. As well as a telescopic, leading-axle front fork, the newcomers featured a lightweight, welded, duplex frame, innovations first seen on the Bavarian company's ISDT machines. The engine too had come in for revision, now employing a one-piece forged crankshaft and aluminium-alloy cylinder barrels while carrying its camshaft below the crank. Coil ignition and 12-volt electrics were other new departures for the Munich firm. The new '/5' models came in three capacities, the variation being achieved by different bore sizes in what were otherwise virtually identical machines. The R60/5 produced a claimed 46bhp, which was good enough to propel the 419lbs machine to a top speed of 103mph. Built to the Bavarian manufacturer's traditional standards of excellence, this highly original R60/5 has covered only 25,865 miles from new. 'BKX 150K' was purchased by the current (second) owner from Charles Coombes of Slough, one of the UK's original BMW dealers, and was last taxed for the road to 31.05.04. Fitted with a small luggage rack and a stainless steel 2-into-1 exhaust system, the machine comes with a full tool kit, instruction manual and Swansea V5/V5C registration documents. Re-commissioning and the customary safety checks are advised before returning it to the road.
Saleroom notices