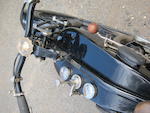 1925 AJS 350cc Model G6 'Big Port'
Registration no. LE 7454
Frame no. C291 GLC (see text)
Engine no. 1923 (see text)
Wars have always spurred on technological development, the rush to produce ever more powerful aero engines in WWI being a case in point, establishing as it did the superiority of overhead valves over the alternatives when high performance was paramount. There had been overhead-valve car and motorcycle engines before 'The Great War', but with the layout's superiority emphatically demonstrated, it did not take long before new OHV designs began appearing on the world's roads in substantial numbers.

Wolverhampton-based A J Stephens first experimented with an overhead-valve engine in 1918 and by 1920 felt sufficiently confident to try their new 350cc racer in the toughest test of the day: the Isle of Man TT. After victory in the 1920 Junior race, when works rider Cyril Williams was able to push over the finishing line, so great was his lead, AJS's new overhead-valve 350 scored a memorable double the following year, Tom Sheard winning the Junior race and Howard Davies the Senior, the first time such a feat had been achieved on a 350. The production version duly made its debut in November 1922, delighting clubmen everywhere with its 'racer on the road' performance. A right-first-time design destined to achieve countless successes in the hands of privateers, the overhead-valve AJS - initially built only as a '350' and known as the 'Big Port' - became available as a '500' for the first time in 1926. Coded 'Model 8', the new 3½hp model followed the general lines of its successful smaller sibling and distinguished itself in the 1926 Isle of Man Senior TT when AJS works rider Jimmy Simpson became the first man to lap at over 70mph.

The example offered here dates from 1925 when the exhaust port diameter was reduced slightly (it returned to the original dimension in 1927). We are advised that this 'Big Port' was built up from parts, including close-ratio gears, by Jack Woodhouse for the late Brian Verrall. Last taxed in 2002, 'LE 7454' requires re-commissioning and the usual safety checks before returning to the road. The machine is offered with green logbook and Swansea V5/V5C documents. (It should be noted that the registration, frame and engine numbers quoted were issued by the Greater London Council).
Saleroom notices
We cannot locate the frame number on this machine.