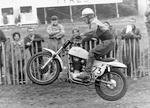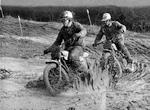 Ex-Derek Rickman, 1966 F.I.M Coupe d'Europe winning
1966 Matchless-Metisse 600cc Mk III
Registration no. SEU 307D
Frame no. 30
Engine no. G85CS 140
Gearbox No: MA 8932 CS

Don & Derek Rickman are legends in their own lifetime; not only did they reach the pinnacle of European motocross, while riding as privateers, they created their own machines – known as Metisse – from the very best components then available, subsequently going into volume production with the third and final version of the prototypes they had raced so successfully between 1959 and 1962. Alongside Jack Brabham in Formula One the Rickman brothers are believed the sole competitors to have won Grand Prix on machines of their own construction! The stock MkIII frame, with which they entered production, was capable of acc-ommodating numerous engine types between 350 and 650cc, although the majority of their rapidly expanding MX customer base tended to fit either Triumph or Matchless motors.

By 1966 however the traditional 500cc 4-stroke scrambler, upon which Metisse production was concentrated, was under intense pressure from a swarm of ever faster and lighter 2-strokes; CZ and Husqvarna in particular were beginning to dominate 500cc World Championship entry lists. In a bold attempt to ensure that "fire-breathing four-strokes" would survive, the FIM announced in 1966 the 750 Coupe d'Europe, a new MX Championship strictly for machines of over 500cc. This 6-round series was an ideal arena for the Rickmans, who promptly confirmed their full participation; Don with a 650cc Triumph engine, Derek with a 600cc Matchless. Despite that only five rounds were held, and that due to family illness Derek had to withdraw from the late season round at Boltby (Yorks), his three earlier outright wins, and a fourth, ensured he secured the Championship, with Don placing 2nd equal. In a recent recall of that era Derek said, "The extra poke of the 600 Matchie, which was prepared by Wally Wyatt, suited me down to the ground...and the result was a tremendous boost for our business!"

The Metisse business was ultimately sold in 1982 to the late Pat French in a compatible transaction that, amongst the tools, jigs, and fixtures, contained Derek's Coupe d'Europe machine, albeit by then in a partly stripped condition. Pat duly put it into race-worthy mode and – within his illustrations held on file – is seen racing the machine during the mid-1990s, both in European events and at two Red Marley Hillclimbs. The bike was also loaned to Derek himself in 1993 and 1995 for respective Past Master Parades at Farleigh Castle. In a fully documented sale the machine passed to the present owner in November 2002, at which point, Pat undertook a very neat conversion into street-legal Enduro specification, typically replacing many of the original MX components with alternative new parts; a major exercise that included fitting Ceriani forks, Rickman wheels, an alloy fuel tank, fresh body panels, plus such associated items as a different exhaust system, horn, speedometer, battery etc. Upon completion of the conversion it was registered in April 2003. The Metisse is now offered in its original white MX spec as raced in 1966. (The Enduro version is identified by its 2-tone fuel tank, see inset picture, and it should be noted that the Lot includes all the alternative fitments described above.) Needless to say the machine abounds with several period touches: e,g. the Magura levers and gaiters. The provision of so many spare fitments (including Rickman competition forks and yokes and Pat's motocross wheels), effectively makes for a dual-purpose mount, suitable for a gentle Sunday ride, yet possessed of an awesome provenance.

The vendor, an arch enthusiast for the historic, has assembled a comp-rehensive file which, inter alia, includes a copy of The Rickman Story, and a personal letter from Derek Rickman (19/3/03) authenticating the machine's history. Believing it essential the Metisse should be sold in the best possible condition there are receipts for substantial work during 2012 by Norman White and Ken de Groome. The V5C/3 is accompanied by a current tax disc + MOT Certificate expiring August 2013. The Metisse and its wide selection of parts warrant close inspection, for it represents a famous slice from the Golden Era of Motocross!
Saleroom notices
Not having seen his former machine for 15 years Derek Rickman inspected the Matchless-Metisse earlier this month. In a letter dated 8th October 2912 he has re-confirmed the bike's provenance.