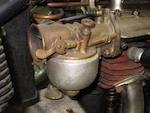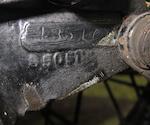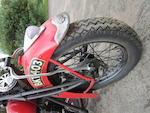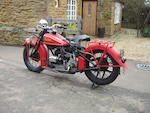 1935 Indian 1,265cc Four
Registration no. BKT 403
Engine no. DCE171B
Marketed as the Indian Ace for 1928, the Springfield company's first four-cylinder motorcycle had resulted from its purchase of Ace rights and tooling from Detroit Motors the previous year. The Ace company, although bankrupted twice, had developed a fundamentally sound four-cylinder motorcycle based on William Henderson's original design, and this provided Indian with an opportunity to offer an in-line 'four' with minimal development costs.

The Ace was William Henderson's second four-cylinder motorcycle. One of the most charismatic names in American motorcycling history, the Henderson company - founded by Tom and William Henderson in Detroit in 1912 - produced nothing but four-cylinder motorcycles in the course of its 19-year existence. The firm passed into the control of Chicago-based cycle maker Ignaz Schwinn, owner of Excelsior, in 1917 and the Hendersons soon moved on to found the Ace motorcycle company - later taken over by Indian - thereby having a hand in the design of all the major American-built fours.

Having acquired the Ace, Indian made few changes for the next couple of years before beginning to put its own characteristic stamp on the Four, beginning in 1929 with a restyle (Model 401) and following up with a new five-main-bearing crankshaft. Introduced on June 1st 1929 on the Model 402, the latter was the biggest single change made to the motor, which retained the Henderson Ace's basic architecture right up to 1936.

Following the debacle of the 'upside-down' Four, Indian reverted to the tried-and-tested 'F-head' (inlet over exhaust) arrangement, adding aluminium cylinder heads and fully enclosed valve gear to the specification. Changes after 1938 were few. Production of the Indian Four, America's last four-cylinder motorcycle, ceased in 1942.

This Indian Four was previously owned by well known collector and aficionado of American motorcycles, the late Terry Martin, who purchased it from Bob Powell of Hythe, Kent in the late 1970s. While in Terry's ownership the Indian was used to attend rallies throughout Western Europe, as well as for trips to the Isle of Man TT. Together with the Henderson Four in this sale, Terry's Indian featured in Motorcycle Classics magazine in 1996 (May edition, copy article available).

Stored since 1996, 'BKT 403' will require re-commissioning and the customary safety checks before returning to the road. The machine is offered with Riders' Instruction Book; various brochures and other marque related literature; overhaul instructions (copy); sundry invoices; assorted photographs; continuation logbook (issued 1956); two expired MoT certificates (most recent 1985); and Swansea V5C document.