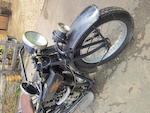 c.1923 Henderson Deluxe
Registration no. HN 1301
Engine no. D2990
One of the most charismatic names in American motorcycling history, Henderson produced nothing but four-cylinder motorcycles in the course of its 19-year existence. Founded by Tom and William Henderson in Detroit in 1912, the firm passed into the control of Chicago-based cycle maker Ignaz Schwinn, owner of Excelsior, in 1917. Schwinn shifted production from Detroit to the Excelsior factory in Chicago and the Hendersons soon moved on. Tom left the industry but William went on to found the Ace motorcycle company - later taken over by Indian - and thereby had a hand in the design of all the major American-built fours.

Schwinn soon abandoned the Henderson's original design, which was replaced by one drawn up by Henderson engineer Arthur O Lemon. Introduced for 1920, the all-new Excelsior-built Henderson Model K boasted a 1,301cc sidevalve engine equipped with forced lubrication, a twin-downtube frame, strengthened front fork and enclosed rear chain. Modifications to the Deluxe (introduced for 1922) mainly concentrated on improvements to the gearbox. Top speed was a guaranteed 80mph and with the optional alloy pistons installed a Deluxe could touch 100mph, an astonishing performance for the time and one matched by few contemporary cars. Police forces across America snapped them up. Most importantly, its forced lubrication meant that the new Henderson could sustain these high speeds with a degree of reliability unattainable by the old splash-lubricated models. In an emphatic demonstration of its capabilities, Wells Bennett set a new world record on a stock Henderson Four on 31st May 1922, averaging 65.1mph for 24 hours, a mark that would remain unsurpassed for the next 15 years.

This Henderson Deluxe previously belonged to well known collector and aficionado of American motorcycles, the late Terry Martin, who purchased it as a restoration project at the Beaulieu Autojumble circa 1977 (see letter on file). Terry rebuilt the Henderson using genuine spares sourced from Alan Grey, an elderly cycle agent who had sold Hendersons, Indians and Harley-Davidsons before WW2, while the engine was overhauled by Bill Healing. Following its completion, Terry rode the Henderson on a variety of runs and rallies, including the Banbury Run, Northumbrian Rally, Bristol-Land's End Trial and a trip to Poland for that country's first vintage road race at Olsztyn. The story of the Henderson's discovery and restoration was recounted in an article for Motorcycle Classics magazine (May 1996 edition, copy available).

Stored since 1996, 'HN 1301' will require re-commissioning and the customary safety checks before returning to the road. The machine is offered with instruction manuals, parts list, correspondence, sundry invoices, a quantity of expired MoT certificates (most recent 1997-1998) and Swansea V5C document.