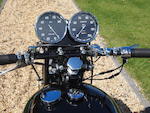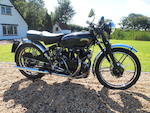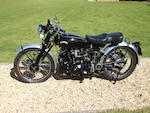 c.1949 Vincent 998cc Series B Black Shadow
Registration no. BEB 443
Frame no. BC4425B
Engine no. F10AB/1B/2525
Ever since the Series A's arrival in 1937, the Vincent v-twin has been synonymous with design innovation, engineering excellence and superlative high performance. From Rollie Free's capture of the 'world's fastest production motorcycle' record in 1948 on a tuned Series-B Black Shadow to the final fully enclosed Black Knight and Black Prince, Philip Vincent's stress on appearance and performance is legendary. His machines bristled with innovative features, offering adjustment of brake pedal, footrests, seat height and gear-change lever. The finish was to a very high standard commensurate with the cost of the machine, which was virtually double that of any of its contemporaries.

But above all else it was the v-twin's stupendous performance that captivated motorcyclists, whether they could afford one or not. The appeal of the Vincent, and the Black Shadow in particular, lay in its ability to out-perform just about every other vehicle on the road, and in the early post-war years there was nothing to compare with it. This was a time when the average family sedan was barely capable of reaching 70mph, and not until the advent of Jaguar's XK120 was there a production sports car that could live with the thundering v-twins from Stevenage. With a top speed approaching 120mph and bettering it in the Black Shadow's case, the Vincent v-twin was quite simply the fastest road vehicle of its day.

This particular Black Shadow has been fully restored both mechanically and cosmetically by renowned specialists Hailwood Restorations and since completion has been kept on display inside the vendor's home. Noteworthy features include a V2 multi-plate clutch conversion, new Amal carburettors and an electronic voltage regulator. Presented in generally excellent condition, the machine comes with Swansea V5 registration document and restoration invoices totalling approximately £18,000.
Saleroom notices
Important notice: This machine is a Series C Black Shadow, not a Series B as stated in the auction catalogue. The frame number is RC4425B