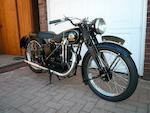 1934 OK-Supreme 250cc Flying Cloud
Frame no. 18928
Engine no. PO/D/35816/S
OK - the 'Supreme' came later - was founded by bicycle manufacturer Humphries & Dawes, of Birmingham. The company experimented with powered two-wheelers in the 20th Century's early years before exhibiting a Precision-engined range in 1911. When Charles Dawes and Ernie Humphries split in 1926, the latter continued motorcycle production using the name 'OK-Supreme'. The firm first entered the Isle of Man TT in 1912, but had to wait for its finest hour until 1928, when OK-Supremes filled four of the top six positions in the Lightweight race, Frank Longman scoring the marque's solitary TT victory. The majority of OK's 1930s range was JAP-powered, the exception being the overhead-camshaft models which used the inclined 'lighthouse' engine at first and a more conventional ohc design from 1935. Bought by the previous owner in 1993 as a wreck from Dick Chalaye of Sevenoaks, Kent, this OK-Supreme is an unfinished restoration project that took around 12 years to get to this stage (about 98% finished) but has never been started. We are advised that work remaining to be done includes stripping, checking and (possibly) rebuilding the gearbox, and setting the ignition and valve timing. The engine has been rebuilt and the crankshaft balanced; some of the engine work was done by Robin James and J&J Engineering of Swindon, while the paintwork was entrusted to John Burton & Son of East Coker, Somerset. Modifications include ball bearings in the wheels, and changing the dynamo from three- to two-brush with a new loom and electronic regulator. The machine comes with Swansea V5C and is sold strictly as viewed.