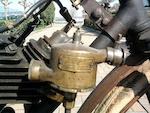 1904 Motosacoche Model B
Engine no. 21084
Founded in Acacias, Geneva, in 1901, Motosacoche took its name from Henri and Armand Dufaux's self-contained cycle-motor power unit, literally 'une moto sa coche' or 'engine in a bag'. The 211cc motor was soon being manufactured in substantial numbers and the brothers set up a subsidiary firm to market it in the UK. This led to collaboration with Royal Enfield, who supplied the cycle parts necessary to market a complete machine and used a Motosacoche v-twin engine when they recommenced motorcycle manufacture in 1910. The Motosacoche and Royal Enfield ranges were effectively identical for the next few years, but after WWI the Swiss marque's presence in the UK market would be limited to supplying its MAG proprietary engines to other manufacturers. This nicely patinated and substantially original early Motosacoche-engined bicycle is offered for sale by an Italian private collector. There are no documents with this Lot, which is offered in need of re-commissioning and sold strictly as viewed.
Saleroom notices
We are advised the machine dates between 1907-08. The engine number is: MI 21084. The frame number could not be located. Thorough and careful recommissioning and safety checks advised before returning to the road.