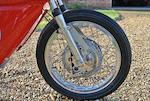 c.1971 Ducati 350cc Racing Motorcycle
Engine no. 12409
Previously owned and rebuilt by Rob Pearson, this Ducati 350 racer was purchased by the current vendor in 2009 via classic racing specialists, TGA (deposit receipt on file). The owner had intended to race the Ducati but his plans changed and so the machine, which still needs running in, is for sale. Rebuilt with new bearings throughout, the engine is a MkIII 'wide case' type incorporating a Carrillo con-rod; 30-32-30 crankpin with new bearing and thrust washers; 76.6mm Asso forged piston (11:1 compression ratio); fully gas-flowed head with 40mm diameter inlet and 36mm exhaust valves; new Colsibro valve guides; coil spring conversion; Vee Two camshaft; and Pazo electronic ignition. Previously installed in a Saxon frame, the engine is understood to have achieved a 97mph lap at the Manx Grand Prix in the late 1990s with Derek Whalley riding.

Drive is transmitted via straight-cut primary gears and a rebuilt clutch to a standard Ducati five-speed gearbox. A 36mm Amal Concentric Mk2 smooth-bore carburettor delivers the mixture, which post-combustion exits via a Gibson high-level exhaust said to meet the usual noise regulations. The suspension consists of Marzocchi forks and Hagon adjustable shock absorbers, while the 18" WM2 alloy-rimmed wheels are shod with virtually new Avon racing tyres. There is a Robinson double-sided twin-leading-shoe brake at the front and a 160mm Ducati stopper at the rear. The glassfibre fuel tank has been professionally treated to prevent ethanol damage. Described as in generally excellent condition, this is an ideal entry-level 350 classic racer at a bargain price.