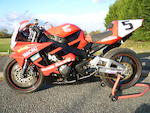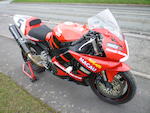 2001 Honda CB900RR Fireblade Racing Motorcycle
Registration no. Y376 KRD
Frame no. JH25C44A8YM00589
Engine no. SC44E2015880
Every so often a model comes along that rewrites the rulebook for sports motorcycles, one of the most influential of modern times being Honda's Fireblade. Launched in 1992, the Fireblade blew away the opposition – principally Yamaha's FZR1000 and Suzuki's GSX-R1100 - with its combination of litre-bike performance and a 600-sized package. Superbly styled and evocatively titled, it was recognised as a future classic almost immediately and early and unmolested examples command high prices today. Progressively developed, the Blade has occasionally fallen behind the opposition but today's version is back at the top of the tree, being recognised as one of the most rider-friendly of current hyper-sports roadsters.

In racing the Fireblade has proved equally successful, winning the World Superbike Championship in 2007 (with James Toseland), the British Superbike Championship in 2006, 2007 and 2010 (Ryuichi Kiyonari) and the prestigious Suzuka 8 Hours on no fewer than six occasions. In national championships worldwide its victories are countless.

The Fireblade offered here is believed to be the one entered by Honda Britain/Paul Bird in the 2001 Macau GP and ridden to 6th place by Two Wheels Only and Performance Bikes journalist, Ian 'Gus' Scott, who tragically lost his life racing at the Isle of Man TT in 2005. It is understood that the Honda had been intended for the 2001 Isle of Man TT that was cancelled because of the outbreak of foot and mouth disease. However, there is no evidence supporting these assumptions other than the machine's general appearance and the fact that the fuel tank has a Macau scrutineering sticker and a Chinese pop bottle acting as a breather catch tank.

Its previous owner kept the Honda for approximately four years and had intended to use it for track days but other than servicing it never touched the bike. Appearing to be in 'as raced at Macau' condition, the machine retains the specially made fuel tank complete with anti-surge baffles, racing filler cap and a breather system. The vendor advises us that he has ridden the Honda on private roads and believes that all it needs to be track ready is a brake service and fresh tyres. Representing a rare opportunity to acquire a racing superbike, the machine is offered with Macau GP reports and old/current Swansea V5 registration documents.
Saleroom notices
The frame number is: JH25C44A8YM00589 We are advised that the engine number recorded on the accompanying V5 is incorrect. The engine number as stated in the catalogue is correct. There is no V5C to accompany this lot.