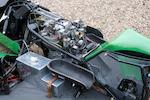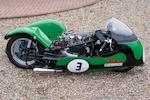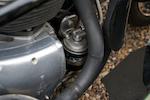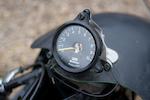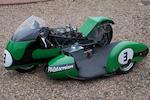 The ex-Chris Vincent, 1962 Isle of Man Sidecar TT-winning
1958 Vincent-BSA 650cc Racing Sidecar Outfit
Unquestionably Britain's most successful sidecar racer of the 1960s, Chris Vincent won the British Championship no fewer than seven times between 1961 and his retirement in 1974. Apart from his talent as a rider - he was also an accomplished racer of solos - Vincent is best remembered as the man who established BSA's humble pushrod twin as the dominant engine on the UK sidecar scene.

Chris Vincent began his career racing a BSA B33 outfit in grass-track and sidecar speedway events, graduating to circuit racing in 1959 with an A7/A10 powered machine. Employed at the time by BSA as a development tester, he used his works connections to improve the roadster engine's power and reliability, scoring a memorable victory in that most arduous of events - the Isle of Man TT - in 1962 when the favoured BMW riders either crashed or broke down. The 500cc A7 and 650cc A10 engines were replaced for 1964 by their A50 and A65 unitary construction counterparts, and Vincent's continuing success - he broke every British circuit's unlimited capacity lap record that year on his way to another Championship - finally convinced his rivals that BSA power was the way to go.

Although he also used BMW, URS and - later - Yamaha engines, Chris Vincent owes his place in motorcycle racing history to his innovative BSA-powered outfits. Constructed between 1956 and 1958, the example we are proud to offer for sale first saw action in '58 and initially housed BSA A7/A10 engines, the A50/A65 types being fitted later. The Vincent-BSA won numerous British Championships and set lap records at all the major UK circuits, and in 1962 was used by Chris to win the Isle of Man Sidecar TT, partnered by veteran Eric Bliss. In September '62 Chris crashed the outfit at Brands Hatch; subsequently repaired and fitted with new bodywork, it was used as backup for the next couple of seasons before passing to sidecar racer Ron Coxon (see letter and photograph on file).
Many years later, in the late 1990s, the outfit was discovered by the current owner, a prominent VMCC member, and rebuilt. The machine is currently fitted with a BSA A10 Super Rocket engine incorporating a Rocket Gold Star cylinder head, high-compression pistons, Spitfire camshaft and a crankshaft modified to end-feed with special main bearings. An Amal TT carburettor with two SU float chambers supplies the mixture, which is ignited by Boyer electronic ignition. Power is transmitted to the BSA RRT2 close-ratio gearbox via bet primary drive and a Norton Commando clutch.

Other noteworthy features include a large-diameter front downtube doubling as an oil tank; airfoil-section tube behind headstock bracing the top tubes and connected to the front downtube; BSA swinging arm; BSA 190mm front brake/hub; BSA 7" q-d rear hub; 16" wheel rims; and an un-braked 12" sidecar wheel. The top tubes still have mounting brackets for the float chambers of the Amal GP carburettors used on the BSA A50/65 engines. With the exception of the nose cone, which was on the machine when it was discovered, the bodywork is new. Since restoration the Vincent-BSA has competed in VMCC (BHR) events and been paraded and displayed in the UK and Europe.

This historic racing motorcycle is offered with a copy of the 1962 IoM Sidecar TT results; a selection of 'as found' photographs; other photographs depicting Chris Vincent with the rebuilt machine and its owner; and a quantity of 1960s magazines containing articles chronicling Chris's racing career. The rest of the 'as found' bodywork is included in the sale also.