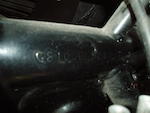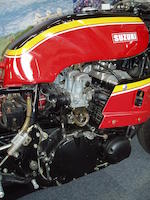 The ex-Barry Sheene
1979 Dunstall Suzuki GS1000 Formula 1 Racing Motorcycle
Frame no. GS1000-521087
Engine no. GS1000-130636
The machine offered here was raced by Barry Sheene at the August Bank Holiday meeting at Oulton Park in 1979. UK importer Heron Suzuki was interested in promoting production-based racing and had asked Paul Dunstall to enter Yoshimura-prepared factory GS1000s in TT Formula 1 events in 1979. Barry Sheene was the Texaco-sponsored Heron Suzuki team's number one rider in Grands Prix and his dislike of racing heavyweight four-strokes was well known, once referring to them as 'muck spreaders'. Nevertheless, Barry acquitted himself with distinction in his one-off ride at Oulton, finishing a close 2nd to Honda-mounted Ron Haslam. Indeed, the Suzuki star might have won had he not been balked by a back-marker on the final lap.

For its first foray into Formula 1 racing Suzuki adopted a relatively cautious approach to tuning the GS1000 roadster. Machines would be sent from Japan to Yoshimura in California where the engines received special cams, larger inlet valves, high-compression slipper pistons, self-generating ignition, close-ratio gears and a stronger clutch basket, the crankshaft, con-rods and bottom end being left stock. Retaining the standard 28mm carburettors (a Formula 1 requirement), the Yoshi-tuned GS produced around 114bhp with a wide spread of useable power. Changes to the chassis included a shorter Peckett & McNab swinging arm and RG500 fork yokes.

Period photographs of the Sheene Suzuki racing at Oulton Park show it equipped only with a cockpit fairing, whereas photographs taken later in the season show the type of full fairing it wears today. It can be seen that this machine was equipped with a right-foot gearchange (as were many of Barry's bikes).

The Dunstall Suzuki team's regular riders were Steve Machin and Bob Smith but Sheene's 2nd place at Oulton would be its best result in '79. Ron Haslam took the championship for Honda that year and for the following season Suzuki responded with a proper factory racer: the XR69.

The ex-Sheene Suzuki was later sold by Tony Robinson (who was involved in running the Suzuki Dunstall team) to Martin Jones of Muswell Hill, London who then sold it to Mike Ryan of Cheltenham in April 1998. Purchased by Richard Ford in June 1999, it was sold to the current vendor in 2009. Since 2002 the Suzuki has been on display in the Lakeland Motor Museum. The Suzuki has not been run since being loaned to the museum and wil1 require re-commissioning and the customary safety checks before returning to the track. Believed the only four-stroke ever raced by the late ex-World Champion, this rare ex-factory production racer is offered with various bills of sale and period press cuttings tracing its history.
Saleroom notices
This was not the only four-stroke machine to be ridden by Barry Sheene. The first was in fact the Gus Kuhn Seeley-Norton Commando in 1970.