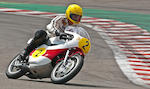 1972 Yamaha YZ634A 353cc Racing Motorcycle
Frame no. TD3-3990569
Engine no. DS7 990560
Yamaha could look back on its first foray into Grand Prix racing with some satisfaction, having captured the 250cc World Championship three times and the 125cc crown twice between 1964 and its withdrawal from the series at the end of the 1968 season. At that time a manufacturer almost exclusively of lightweights, the Japanese factory had never contested Grand Prix racing's premier 500cc class and would not mount a serious effort until 1973.

By then Yamaha had already secured its maiden victory in the 500cc class, Chas Mortimer having won the 1972 Spanish Grand Prix on a factory YZ634A. For the '72 season the Yamaha Motor NV factory team contested the 125, 250 and 350cc classes, while from the Yugoslavian Grand Prix onwards works riders Rod Gould and Chas Mortimer were given the YZ634A to compete in the 500cc class. The YZ634A was basically a standard 350cc TR3 equipped with factory crankshafts, pistons and cylinders, bored out from 64 to 64.5mm for a capacity of approximately 353cc. Thus enlarged in order to comply with FIM rules, the factory YZ634As could compete legally in the 500cc class where they faced a multitude of similarly enlarged privateer TR3s and Giacomo Agostini's all-conquering MV Agusta.

On the YZ634A's first outing Mortimer finished 2nd behind Albert Pagani on the MV. Rod Gould managed four podium finishes before the season's end, which was good enough for 4th place in the Riders' World Championship while Mortimer finished 6th. Yamaha ended up in 2nd place in the Manufacturers' 500cc World Championship behind MV after a remarkable season that had seen it secure victories in 125, 250, 350 and 500cc Grands Prix - a quite outstanding achievement.

With around 70bhp on tap, the stretched TR3 comfortably outperformed the obsolete Manx Nortons and Matchless G50s but was simply not powerful enough to defeat the mighty MV Agusta in the 500cc class. For that task Yamaha need a four-cylinder racer, which duly appeared at the start of the '73 season in the shape of Jarno Saarinen's OW19.

Constructed by Ferry in 2005, the machine offered here is a faithful replica of the 1972 YZ634A, incorporating the actual fuel tank of Chas Mortimer's bike and factory-specification aluminium shock absorbers, steering damper and brake pedal, as on the original. At Yamaha's celebration of 50 years in Grand Prix racing, held at Assen in 2011, Chas Mortimer rode Ferry's YZ634A, which has also been ridden by Bruno Kneubühler, Dieter Braun and Phil Read. The machine is offered with assorted photographs and a specification sheet.
Saleroom notices
The engine number is DS7-990569. The frame number is TD3-990569