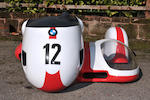 The ex-Dick Hawes
1996 Busch-BMW 980cc Racing Sidecar Outfit
Renowned throughout the world as the designer and builder of a succession of championship-winning sidecar outfits, Dieter Busch from near Frankfurt in Germany only took up manufacturing after a crash brought his solo-racing career to an end.

Swiss ace Fritz Scheidegger, partnered by John Robinson, began the long string of Busch successes by winning the 1965 and 1966 World Sidecar Championships with nine Grand Prix wins. Following Fritz's tragic death at Mallory Park towards the end of 1966, Klaus Enders take over the mantle as the top Grand Prix competitor on his Busch-BMW outfits. Between 1967 and 1974 the German ace won six World Sidecar Championships amassing an impressive total of 27 Grand Prix wins, a quite outstanding achievement. But by then BMW's dominance was over and Dieter Busch turned his attention to the Konig two-stroke engine, building an outfit for Rolf Steinhausen who would go on to win the 1975 and 1976 World Sidecar Championships. Between them Messrs Scheidegger, Enders and Steinhausen won 42 World Championship Grands Prix under the Dieter Busch banner.

Dieter Busch was most selective about whom he built outfits for and in 1996 agreed to provide a 1970s-style 980cc BMW-powered classic outfit for the retired Grand Prix competitor Heinz Luthringshauser, winner of the IoM Sidecar TT in 1974. Following a change of circumstances the elderly Heinz decided not to proceed with a classic return so the new and un-raced Busch-BMW was sold in 1997 to Dick Hawes, who went on to campaign it in European classic events with considerable success, winning over 50 races. Dick then commissioned Dieter Busch to build a 1960s-style BMW outfit with 16" wheels to compete in earlier-period events, and it is this machine that Bonhams' consultant Colin Seeley demonstrates at classic gatherings today.

Towards the end of 2008 the Busch-BMW racing outfit offered here was sold to the current owner, who over the course of the next three years achieved 28 first place finishes at classic events throughout Europe including Mettet, Chimay, Jehonville, Croix, Geddine, Oschersleben, Mallory Park and the Isle of Man Pre-TT Classic. The outfit has been maintained regardless of cost and the BMW engine and gearbox have been rebuilt, serviced and maintained by Dieter Busch and/or the vendor's own mechanic. Facts and figures to support the history and technical information to assist the new owner with maintenance are included in the sale.

This is a rare opportunity to obtain an original, classic-style Dieter Busch BMW sidecar outfit, one of the most competitive in Europe with championships and lap records to prove the point, and a winner all the way!
Saleroom notices
The vendor will provide all relevant information regarding the starting instructions. Further spare parts, including spare fairings and an engine, are available via separate negotiation with the vendor.