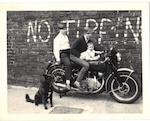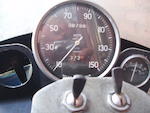 1954 Vincent 998cc Rapide
Registration no. STB 383
Frame no. RC 12301
Engine no. F10AB/1/10401
The current vendor is the third owner of this Rapide, which was purchased in April 1968 and used
regularly until around 1978. After that time it was stored until circa 2003 when it was re-commissioned. At that time all the brake shoes were relined, the clutch relined, two new tyres fitted and the magneto rewound. 'STB 383' was then used occasionally until 2006 when it was again put into storage. The engine has been turned over on a weekly basis and the machine should only need a modest amount of re-commissioning in order to be used again in its present condition.

There is an interesting letter (dated 1961) on file from the first owner, James Evans, to the second owner, Bryan White, recounting the fact that the Rapide was displayed by the factory at the Earls Court Show of 1953 before being transported around the country as an exhibit, then passing to King's Motors (Oxford) Ltd from whom he purchased it in April 1954. Mr Evans goes into detail about the engine's enhanced state of tune, which he states was 'described by Vincents as a "White Shadow"'. The engine is said to incorporate 7.8:1 compression pistons and MkII high-lift cams, while the vendor states that it also has triple valve springs. This specification is higher than the standard Black Shadow tune and more akin to Lightning specification. The carburettors are 1⅛" diameter with the brass-bodied left-handed unit fitted to the front cylinder and zinc-alloy right-handed one to the rear cylinder, which is normal Black or White Shadow practice.

It appears that the Vincent was fitted with a sidecar when first registered, this being removed during 1961 by the second owner. The first owner fitted a Lucas dynamo and regulator, disdainfully describing the original Miller electrics as 'a complete washout' in the aforementioned letter. Other unusual features include chromed rear brake plates; ventilated front brake plates; finned Black Shadow/Lightning brake drums all round; 150mph Shadow speedometer; ventilated and chamfered clutch cover; and Dunlop alloy rims (19"/18" front/rear). Most of these features can be seen in the photograph on file (taken in 1969), with the vendor's three children aboard 'STB 383'. The baby sitting on the fuel tank is now 44 years old. This well documented Vincent Rapide is offered with its original logbook, original Rider's Handbook and an old tax disc (expired August 1969). It should be noted that 'STB 383' is not recorded on the DVLA computer.
Saleroom notices
The carburettors are 1 1/8" diameter.