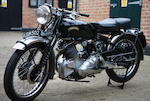 1951 Vincent 499cc Comet
Registration no. KBM 502
Frame no. RC1 9372
Engine no. F5/AB/2A/7472
Rear frame no. RC1 9372
Crankcase mating no. 89AA

Apart from its Burman gearbox and 'missing' cylinder, the Comet built from 1949 to 1954 followed Series-C twin lines, featuring the newly introduced Girdraulic front fork and hydraulic dampers at front and rear, while the Meteor tourer retained the old Brampton girders. The Comet offered the same degree of refinement as its bigger brother, albeit with reduced performance. Even so, the Comet combined a 90mph potential with excellent fuel economy, and was the ideal touring mount for the discerning rider who placed civility of manners and quality of construction above outright performance. An expensive machine to produce, the Comet did not sell as well as its maker had hoped and was dropped when the Series-D range was introduced. This Comet was purchased from the late Mick Ruocco's shop in the Isle of Man in July 2007, since when the vendor has fitted a new clutch, battery and valve lifter cable. The owner has covered only a mere handful of miles on 'KBM 502' over the past five years, as evidenced by the three expired MoT certificates on file (most recent August 2010). Described as in generally very good condition, the machine is offered with purchase receipt and a copy of the Swansea V5.